2016 was a very busy year for us and 2017 looks just as busy!
As we replenish our inventory in the coming weeks, you can easily track all the listings on Mayne Island through this link: MLS:Mayne Island. Regardless of with whom a property is listed, Glen and Lise McLeod can act as your buyer's agent, giving you the full benefit of our experience gained from 28 years in real estate and over 42 years of full time Mayne Island living.
Mayne Islanders considering selling their property should know that Glen and Lise have been consistent top producers over the years. Glen was awarded an MLS Gold Medallion for his sales performance in 2015 and 2016. This is an honour based on number of sales and reserved for the top 10% of the 12,000 realtors in the Real Estate Board of Greater Vancouver.
For all your real estate needs, contact Glen and Lise McLeod
250-539-5555 - We know Mayne Island!
Mayne Island Featured Homes and Properties
$ 499,000

$ 449,000

$ 369,000

Home With A View

$ 299,000

Hilltop View Home On Acreage New

$ 249,900

Affordable Island Home New

$ 215,000

Cherry Tree Lane Cottage New

$ 59,000

Building Lot Close To Ferry New

$ 669,000

Life's A Beach!

SOLD

$ 449,000

$ 529,000

Home in David Cove

SOLD

$ 389,000

Quality Home Near Beaches

SOLD

$ 359,000

Sandy Hook Spacious Home SOLD

$ 229,000

A Getaway On Beautiful 2.10 Acreage SOLD

$ 249,000

Private Acreage on Georgina Point Road SOLD

$ 279,900

Navy Channel Waterfront Acreage

SOLD

$ 89,900

Prime Lot In Bennett Bay

SOLD

$ 699,500

$ 537,000

Dinner Bay Waterfront Cottage With Dock

SOLD

Rough Diamond in Bennett Bay

SOLD
Mayne Island Waterfront Homes
Mayne Island Waterfront Lots
Mayne Island Homes and Cottages
Mayne Island Lots and Acreages
For the complete list of properties for sale on Mayne Island
Contact Glen & Lise McLeod for more information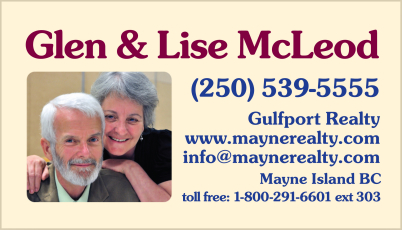 Mayne Island is one of the smallest Southern Gulf Islands between the cities of Vancouver and Victoria in British Columbia, Canada. The Southern Gulf Islands offer the best of and the finest of all Canada vacation property. More affordable than most Vancouver Island real estate, Gulf Island properties offer a chance to step off the fast lane to a special place in time, safe and removed from the hectic pace of today's busy world.
We'll be happy to set you on the right course!